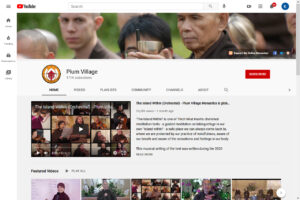 Got the App?
Is everyone on the Eyes of Compassion mailing list aware of the amazing study and practice resources available free on the Plum Village app?
Explore guided meditations, deep relaxations, dharma talks, Q&A with Thay, chants, choral works sung by the Plum Village Ensemble, nature sounds, practices you can do with children, and so much more, featuring Thay and the Plum Village monastic community.  You'll find videos as well as audio recordings, ranging from just a few minutes to longer, deeper practices.
Go to https://plumvillage.app/ to download it either from the App Store or Google Play, and start taking Plum Village with you wherever you go!
Visited the YouTube Channel?
Another wonderful treasure chest of free practice and support resources is the Plum Village YouTube channel (https://www.youtube.com/plumvillage).  It offers hundreds of videos–with new ones frequently added–of varying length and a variety of topics, featuring numerous monastic presenters.
Listening, watching, and smiling,
Kate Lawrence
Awakened Smile of the Heart