Event Navigation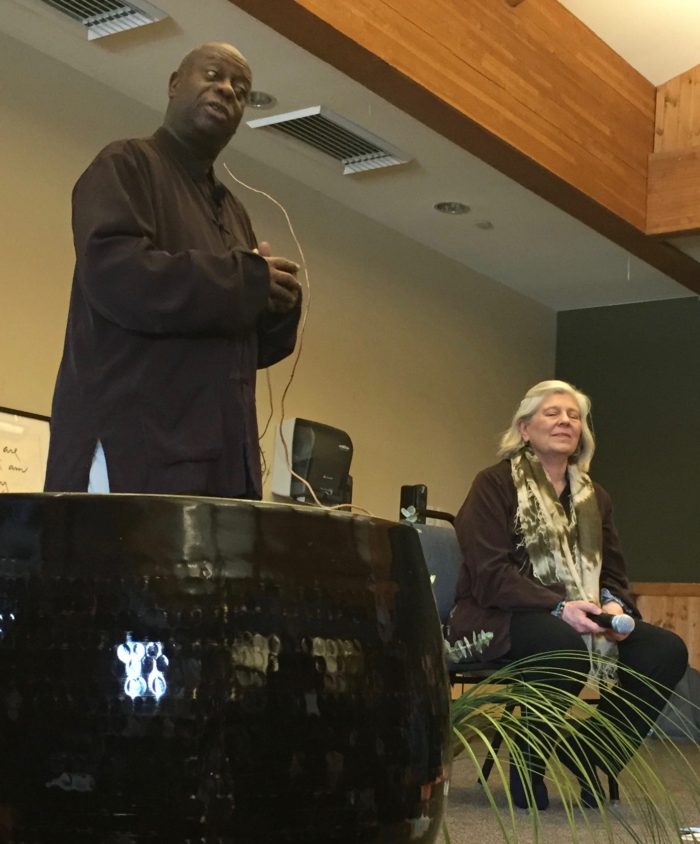 Upcoming Retreat: Entering the Ambrosia Gate
April 4, 2019

-

April 8, 2019
Description
​Entering the Ambrosia Gate:
A Deep and Sweet Encounter with the Practice of Loving Kindness and the Bodhisattva Maitreya With Dharma teachers Peggy Rowe and Larry Ward.  
Join Dharma Teachers Peggy Rowe, EdD and Larry Ward, PhD and the Colorado Sangha at the YMCA of the Rockies, Estes Park, CO for a deep and refreshing encounter with The Bodhisattva Maitreya; the manifestation of Loving Kindness.  Experience the empowering aroma of Loving Kindness and the elixir of Beloved Community.
The energies and qualities of this Bodhisattva have appeared over centuries as a Bodhisattva in Paradise; a messenger of social revolution and a teachert ransforming confusion and suffering with fierce equanimity.  Our beloved teacher Thich Nhat Hanh has suggested the next Buddha "Maitreya" is a collective manifestation, a calling more urgent now than ever.
In this retreat, we will hear of the legend of Maitreya; we will honor her as the mother of all Buddhas; we will practice extending our kindness both near and far away. We will enrich our contemplative time together by a focus on the somatics and resilience of healing as the ground of our insight and release. The core practices we will share are sitting, walking, eating and standing in mindful awareness. In addition we will create a container of safety and noble silence for the seeds of beloved community to grow stronger.
Retreat information:
CHECK-IN is on Thursday, April 4th, 2019 from 3:00-5:00 pm. The retreat will begin with dinner on Thursday and end with lunch on Monday, April 8th, 2019. We will enjoy sitting meditation, indoor walking meditation, outdoor activities (weather permitting), dharma talks, dharma discussion, eating meditation, total relaxation, mindful movement, singing and community circle.
A WELCOMING COMMUNITY: In order to provide a welcoming and nourishing atmosphere for everyone, we will offer some guidelines at the beginning of the retreat to help deepen everyone's experience.  We ask that you refrain from wearing scents or oils during the retreat.
MEALS: All meals will be vegetarian with vegan and gluten free options. Snacks will not be provided.  Please bring what you may need to tide you over between meals.  If you have other dietary needs please tell us in the box below
ACCOMODATIONS AND COST: Your registration cost includes your lodging and all meals from Thursday dinner through Monday lunch. Registration fees vary based on type of room selected and are calculated per person, not per room. Please note that some rooms are in a Central Lodge, and the meditation hall may or may not be in the same building as these rooms. Other rooms are in an Eastside Lodge, which is about a 10-minute walk from the Central Lodges are, where the meditation hall is likely to be located.
Single in Central Lodge: $652
Double in Central Lodge (2 beds): $425
Double in Eastside Lodges (2 beds): $373
Triple in Eastside Lodge (3 beds): $316
5 to a room (5 beds, including upper bunks) in Eastside Lodge: $269
EYES OF COMPASSION SCHOLARSHIPS which can cover part of the cost of the retreat are available to members of our Eyes of Compassion sangha. Contact Steven Carroll sjcarroll6@gmail.com for application. Please do this asap since the time frame is short.
RETREAT SCHOLARSHIPS: This retreat is able to offer scholarships based on registration donations. Consider donating to the scholarship fund if you are able. For those needing financial support, ask your local community/sangha first (SEE ABOVE FOR EYES OF COMPASSION SCHOLARSHIPS). To apply for funding from retreat donations contact Paul McClure at pj.mcclure@gmail.comg for an application. When applications are approved, you will be notified and given a scholarship recipient code you can use for registration.
THANKING OUR TEACHERS: Peggy and Larry follow a long tradition of offering the Buddha's teachings without charge because these teachings are priceless. As part of this tradition, those receiving the teachings support the teacher. Please consider making a donation at the retreat according to your means and the value you feel you have received. Suggested Dana to our teachers is $25 per day or $125 for the retreat and may be paid by cash, check, debit or Credit Card on-site. You also may want to consider Dana (gift) to the YMCA staff.
REGISTRATION DEADLINE: Please register by March 1 for best rates and to help us with planning. Rates increase by $50 on March 1. Registration will remain open until March 20 and may close earlier as space is limited.
REFUND POLICY: Because we must pay for accommodations reserved, no refunds are possible, unless you are able to arrange for someone else to pay for and use the space you reserved.
FOR MORE INFORMATION: Please contact Kathy Zilberman at kzilb@me.com or Val Stepien at vonstep@ecentral.com.